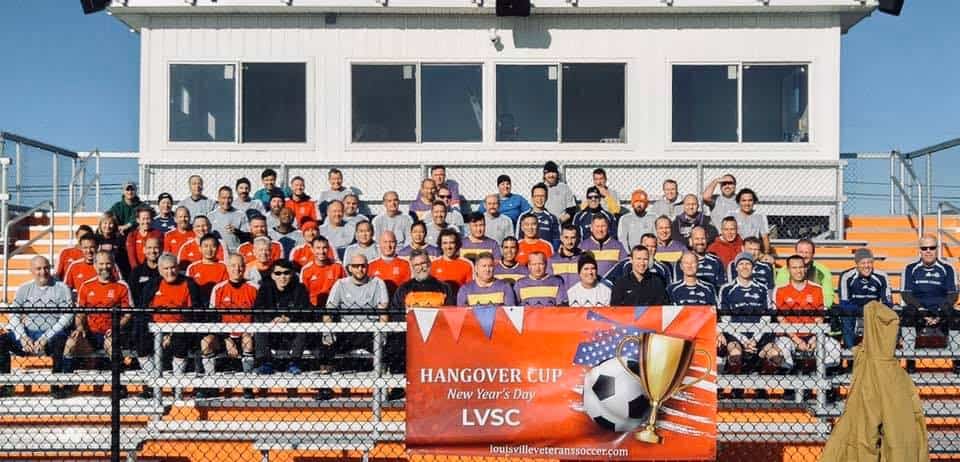 Format is as follows:
3 round robin games of 30 minutes each (15 minute halves)
Top two teams based on points play in a 30 minute championship games.
The next two teams can enjoy adult beverages outside the fence and watch the match. Bring your koozie, I'll bring the beer!
Let's Represent Our Home Countries.
This year we want to showcase our club diversity. Please bring a jersey for your national team or your favorite club. We will wear these for our photoshoot, but not the actual game. You may also bring a flag from your home country if you like. We can arrange them along the fence similar to how we placed our Hangover Cup Banner. Tell your friends! Thank you Pagva Victor for this great idea!
Points Schedule:
6 points per win
3 points per tie
0 point for a loss
1 for each goal scored up to a max of 3
1 point for a winning shutout
Tie Breaker:
Head to Head
Goal Differential
Goals Scored
9v9 format
I have red, grey and purple jerseys. I'll need one team to volunteer to wear black (black, not some version of grey!) Sub from midfield, must enter when player leaves from same area, sub on the fly. No referees, I may bring referees into play next year (I'll blame it on COVID-19 for not having them this year).
Team Rosters
Minotaurs
Team 1
Chad Armenta
Jay Berrisford
Victor Bolanos
Marshall Boyd
Jeff Brown
Marlon Chagua
JD Dai
KC Fadem
Alberto Gallo
James Prather
Sambuu Rentsensambu
Berry Sebastien
Henry (Rick) Spiller
Michael Fitzer (GK)
Dragons
Team 2
Robert Burch
Ben Carter
David Cooper
Sam Gardner
Luke Moreschi
Gary Nakasato
Andres Reyes
Oscar Salciedo
JD Shelton
Tara Stout
Gilles Topolsky
Pagva Victor
Jim Zimmer
Mark Donnelly (GK)
Quoc Huynh (GK)
Ogres
Team 3
Chrstine Beavers
Ryan Cleary
Kevin Ingram
Scott Johnson
Stuart Miles
Jason Prather
Alan Rubin
Darin Stinnett
Hoss Tavak
Marcus Whitehead
Nate Wiselogel
Daniel Swan (GK)
Hippogriffs
Team 4
Andrew Aebersold
Vladimir Fridman
Xudong Fu
Adam Gaweda
John Hahn
Travis Holmes
Chuck Hubbs
Robb Mears
Paul Perez
Rob Potts
David Thompson
Brandon Welch
Qifa Xie
Jason Wiesenauer (GK)
If you have not already done so, please pay your 2021 membership dues online or bring a check payable to CCSA for $100 the day of the Hangover Cup. Your club dues are the only requirement to play, otherwise this is a "free" event. Have fun! =)